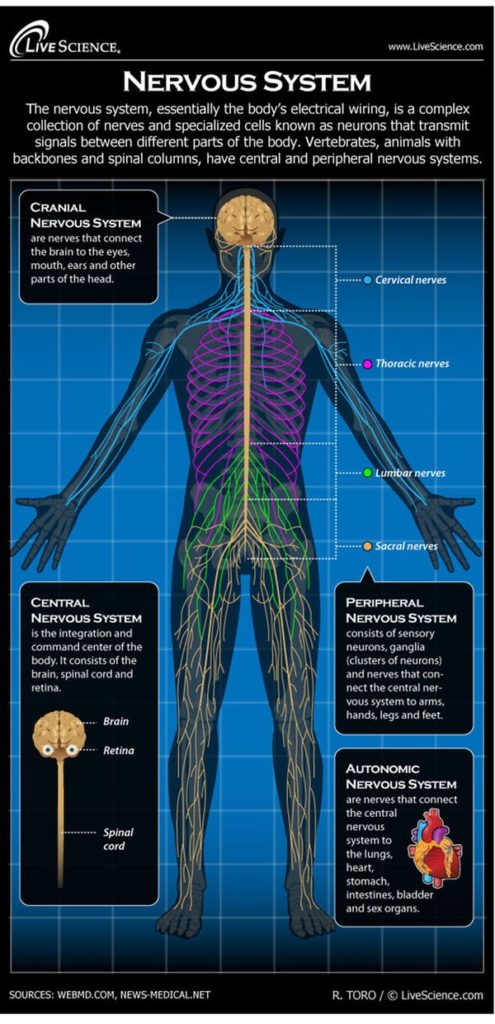 Chiropractic / Acupuncture
The nervous system interfaces with an Acupuncture energy grid containing 20 meridians and over 400 acupuncture points. This energy grid controls the life force moving through all living things. Many refer to this energy as innate or Qi energy. The purpose of Chiropractic, Acupuncture, Craniosacral, Qi Gong and many other practices is to optimize, nurture and maintain this life force utilizing natural time tested therapies.
When you balance the spirit, mind, body and breath; the river flows and you are at your best. The Wellness Game
We offer a one-stop shop for healing your body. Our unique, personalized blend of; chiropractic, acupuncture, craniosacral, nutrition, water therapy, body work, breathing, movement and posture strengthening exercises will benefit everyone.
* We work as a team educating and treating families on natural noninvasive approaches to wellness. Our work helps normalize the energy and fluids flowing thru your body. Maintaining this balance of fluids and electrical energy keeps one healthy. We nurture your nervous system which automatically releases nerve interference, stress, stuck trauma allowing your body to reach its full potential.
* A typical first visit includes; 1. Fill out simple office forms. 2. Short meet and great, a great time to ask questions and discuss your needs. 3. Exam- posture pictures, blood pressure, urine analysis- if needed, neurological and physical exam. 4. A report of the Dr's findings and suggested treatment.
* A typical treatment may include some craniosacral and chiropractic or body work and acupuncture. We suggest the desired therapies but you are your own captain and we honor your choices.
* With over fifty years of combined clinical experience we know the power is in the combination of these modalities. Seldom are all of these therapies available in one session or even one clinic.
* Dean & Amanda offer four hands and two hearts. We support each persons journey focusing on wellness not illness. We encourage people to take an active roll in improving and maintaining vibrant radiant health.
* We developed Sacred Centerings -The Wellness Game. The Wellness Game is a take home tool that is fun to play and supports a daily health practice. It is available on our website or by calling us at 971-221-4797
"One thing I appreciate about Dean and Amanda is they take the time to educate me about my body and how I can take better care of it." Tony Burroughs
When we are more balanced spiritually, emotionally, mentally, chemically, electrically and physically we radiate vibrant wellness. This balance can be obtained and maintained naturally by many approaches including healthy lifestyle, wellness mindset, manual medicine, acupuncture , craniosacral, laser light therapy, nutrition, exercise, yoga, breathing, meditation, stress reduction, rest.
If you would like to learn more or schedule a session with Dr Dean & Amanda contact; Hotspringshealers@gmail.com or. 971-221-4797